Welcome to the House of Faith!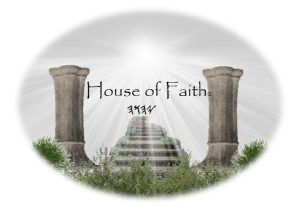 The members of this House are listed below.
Marriage Certificates: LINK
Family Records: 
Declarations:
1: DECLARATION OF EXISTENCE OF A GIVEN NAME BY JAMES: LINK
2: DECLARATION OF EXISTENCE OF A GIVEN NAME BY SARAH: LINK
Certificates of Dedication: 
 1: CERTIFICATE OF DEDICATION: LINK
Other: 
About:
Faith or Faithful
Emunah (em-oo-naw')
The 'Aleph' is the picture of an ox head and illustrates the strength of an animal. It can mean strong, power, or leader.
The 'Mem' illustrates water or waves. As a nomadic people, the Hebrews feared the waves or waters of the ocean. So the letter came to mean chaos, mighty, or blood.
The 'Vav' represents a tent peg or nail and means to secure, connect, or establish.
The 'Nun' represents a seed or sprout and gives us the meaning of continuing to a new generation. It can have the meaning of continuing, perpetuating, sustaining, offspring, or heir.
The 'Hey' pictograph represents a man with his hands in the air trying to get someone's attention. It suggests look, reveal, behold.